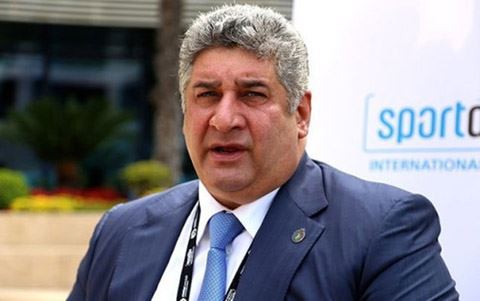 "I believe that guests who visit the country will see our hospitality, get acquainted with our beautiful city and leave our capital with good impressions," Minister of Youth and Sports Azad Rahimov told Associated Press.
Report informs that he spoke commenting on the Europa League final match between Chelsea and Arsenal.
Rahimov noted that the security measures for the Europe League final match at a high level: "We are very seriously prepared for this match. Security officers have undergone special training. The stewards are trained to prevent any kind of security problem. The stadium will remain at a very high level. I think that Arsenal and Chelsea fans are not enemies and nothing happens here in Baku. Several times we hosted big football matches, the stadium is totally ready for this final, and there are not any problems."
The Minister said that Heydar Aliyev international airport is ready to welcome guests. Rahimov also said that Azerbaijan gave a security guarantee to the Armenian player of Arsenal club Henrikh Mkhitaryan to participate in the Europe League final match to be held in Baku: "Armenians have participated in several events that we have been held so far. World Championships in boxing and wrestling are example. Armenia took part the first European games Baku 2015 with a delegation of 20-23 people. We have never used sport as a political tool for any purpose. On the contrary, we kept sport out of all these political issues. Of course, this also applies to Henrikh Mkhitaryan. Mkhitaryan is a member of the English team that will arrive in Azerbaijan. He received all security guarantees from the state."
The Europa League final match will kick off at the Baku Olympic stadium on May 29 at 23:00.