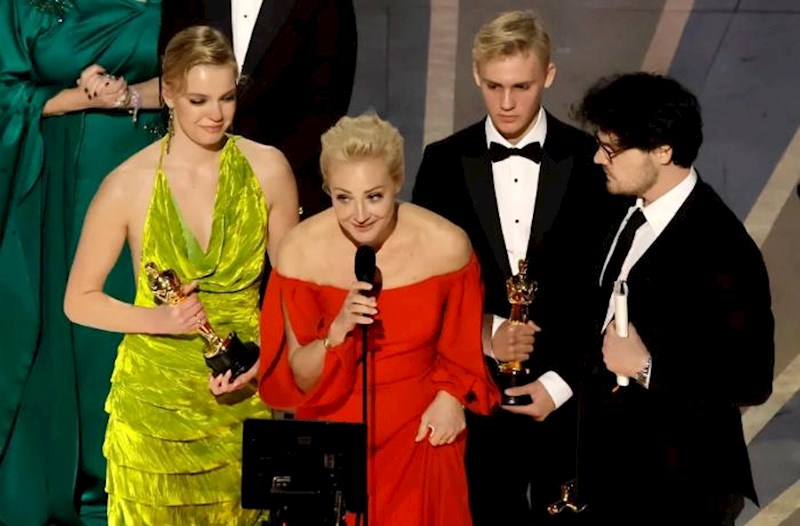 "Navalny", a film by Canadian director Daniel Roer about Russian political prisoner Alexei Navalny, won an Oscar for Best Documentary.
Yeniavaz.com reports that the film tells about the poisoning of Alexei Navalny by "Novichok", treatment and return to Russia.
During the awards ceremony, the director thanked investigators Hristo Grozev and Maria Pevchikh, as well as Alexei Navalny's family - his wife Yulia, daughter Daria and son Zakhar.
"Alexei, the world has not forgotten your vital message to us all: We cannot, we must not be afraid to oppose dictators and authoritarianism wherever it rears its head. Thank you for your courage. The world is with you. I want to dedicate this award to Alexei Navalny and all political prisoners around the world," Roer said.
Yulia Navalnaya also gave a short speech: "My husband is in prison just for telling the truth. He is in prison just for defending democracy. Alexey, I am dreaming the day when you will be free. And our country will be free. Stay strong, my love."
It should be noted that the film was commissioned by HBO Max and CNN Films.
Recall that one of the leaders of the Russian opposition, Alexei Navalny, has been in prison since February 2021.
"Alexei, the world has not forgotten your vital message to us all: We cannot, we must not be afraid to oppose dictators and authoritarianism wherever it rears its head."

"Navalny" wins the Academy Award for Best Documentary Feature Film.#Oscarshttps://t.co/OizA2V1EIT pic.twitter.com/XKW3M1wJjR

— ABC News (@ABC) March 13, 2023