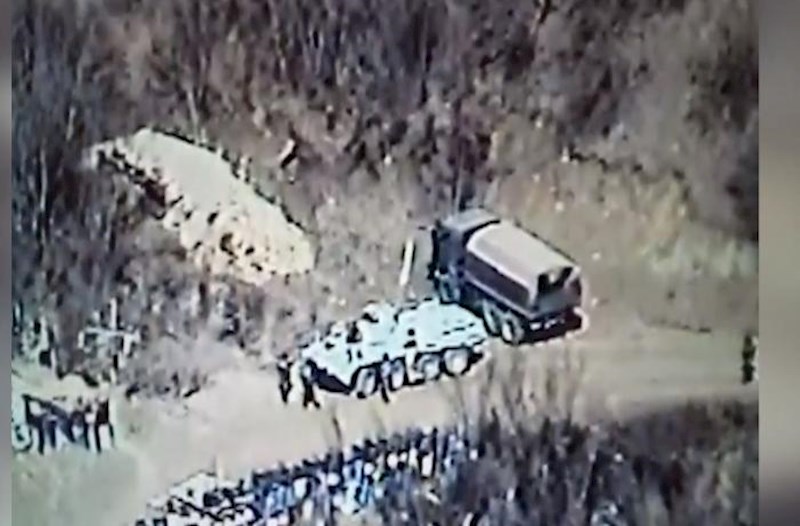 The technical means of observation of the units of the Azerbaijan Army recorded another movement of military vehicles carrying personnel of the units of the armed forces of Armenia and illegal Armenian armed formations, accompanied by the Russian peacekeeping contingent, along the dirt road Khankendi-Khalfali-Turshsu.
Yeniavaz.com
reports that the Ministry of Defense of Azerbaijan disseminated information about this.
According to the information, the presented video footage clearly shows the escort of military vehicles of the units of the Armenian armed forces and illegal Armenian armed formations along the indicated route by the ZTR-82A combat vehicle belonging to the Russian peacekeeping contingent and ensuring the safety of personnel delivered to combat positions.
We declare that the transportation of military cargo from Armenia to the Karabakh economic region of Azerbaijan must be immediately stopped, and the illegal Armenian armed formations must be disarmed and withdrawn from the territory of Azerbaijan as soon as possible.
The command of the Russian peacekeeping contingent temporarily stationed on the territory of Azerbaijan must be aware of its responsibility in this process and must fulfill its obligations.
Such illegal actions, which occur regularly, make it necessary to create a border checkpoint and checkpoint of Azerbaijan at the end point of the Lachin road on the Azerbaijani-Armenian border.