The winner of the tenders held by the Center for Financial Science and Education under the Ministry of Finance has been announced.
Yeniavaz.com
reports, that "Rn Corp 22" LLC (TIN - 1102636981) became the winner of the tender for the amount of 9,000 manats.
LLC "Rn Corp 22" will sell operating systems, office programs and antiviruses to the Financial Research and Education Center.
For reference, that the legal address of the company is "Garadagh district, Lokbatan urban-type settlement, passage 1594, building 30, apt. 8". LLC "Rn Corp 22" with an authorized capital of 10 manats was registered only 5 months ago - 20.06.2022.
Maharramov Rovshan Baladadash oglu, the legal representative of "Rn Corp 22" LLC, manages several more companies registered at the specified address. Shortly after their inception, these companies won tenders held by government agencies.
For example, another company headed by Maharramov Rovshan Baladadash oglu "Orlondo Az" LLC (TIN-1102637081) received 105,800 manats from the Yevlakh City Housing and Communal Services just a month after registration, and two months later from the Gazakh State College of Social economy 31 thousand 300 manats.
LLC "Rn Corp 22" under the leadership of Magerramov Rovshan Baladadash oglu managed to win 13 tenders in just 3 months after registration.
A noteworthy moment in the tenders is that LLC "Rn Corp 22", about which there is no information, won tenders held by various government agencies in different areas. For example, "Rn Corp 22" LLC carried out repair work for the Sheki Pedagogical College, sold medicines and bandages to the Baku Main Police Department, office furniture to the executive body of the Oguz region.
Another doubtful point is that many companies winning tenders, despite their recent creation, are registered at the state registration address of "Rn Corp 22" LLC - "Passage 1594, Building 30, Apt. 8, Lokbatan UTS, Garadagh District".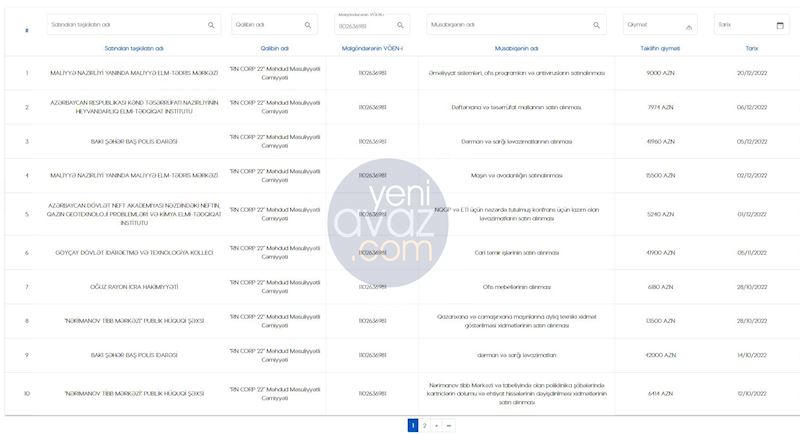 A.Jafarov