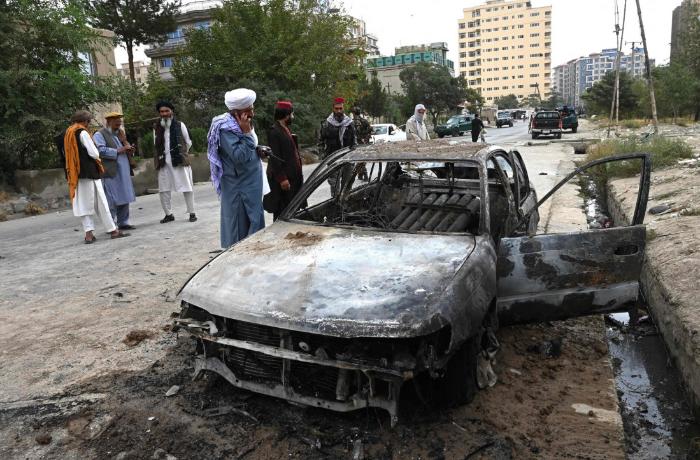 The U.S. military shot down rockets aimed at the Kabul airport on Monday morning as violence near the field threatened efforts by the United States to meet Tuesday's deadline to withdraw from Afghanistan and end America's longest war, APA reports citing NYT.
A U.S. official said the rockets were brought down by a counter-rocket system after five were fired at the airport, and that there were no initial reports of casualties. The airport remained open, according to the official, who spoke on the condition of anonymity to discuss operational details.
The move by the U.S. military underlined the precariousness of the security situation in the Afghan capital and the dangers of an imminent security vacuum, with just two days remaining before President Biden's Tuesday deadline to complete the withdrawal from America's 20-year war in Afghanistan.
It followed another U.S. strike on Sunday, when a U.S. military drone strike blew up a vehicle laden with explosives in Kabul on Sunday, officials said.
Afghans said the drone strike killed as many as 13 civilians, including children, and the U.S. military said it was investigating.
The Sunday strike thwarted an imminent threat to Hamid Karzai International Airport from the Islamic State Khorasan, a spokesman for the U.S. Central Command said.
Defense officials in a statement Sunday evening acknowledged the possibilities that civilians may have been killed after the strike.
Bill Urban, the CentCom spokesman, said he was aware that there had been powerful subsequent explosions resulting from the destruction of a vehicle, that may have caused additional casualties. "We are aware of reports of civilian casualties following our strike on a vehicle in Kabul today," he said. "We are still assessing the results of this strike."
He added: "We would be deeply saddened by any potential loss of innocent life."
The chief Taliban spokesman and people in Kabul who posted on social media said that both a house and a vehicle had been hit in a neighborhood just west of the airport and that several civilians had been killed, as well.
Samim Shahyad, a 25-year-old journalism student, said the strike killed his father, his two brothers, four of his young cousins, his niece and his sister's fiancé. Three of the dead were girls 2 years old or younger, he said, and his aunt and uncle lost all three of their children.
"The American aircraft targeted us," he said. "I do not know what to say, they just cut my arms and broke my back, I cannot say anything more."
A doctor at a nearby hospital said four bodies were taken there, two of them those of children.
A senior U.S. military official responded that the military was confident that no civilians had been in the targeted vehicle but acknowledged that the detonation of the explosives in it could have caused "collateral damage."
Video of the scene showed a tangle of metal barely recognizable as the remains of a vehicle, and just a few feet away, the charred, pockmarked wreck of another vehicle, an S.U.V. Mr. Shahyad said his father had been pulling into their garage when the explosion hit.
Earlier Sunday, the U.S. Embassy in Kabul had said that there was a "specific, credible threat" to the airport area, where a suicide bombing on Thursday killed as many as 170 civilians and 13 members of the American military. The Islamic State Khorasan claimed responsibility for the attack. Mr. Biden had warned on Saturday that another attack was "highly likely" in the coming hours.