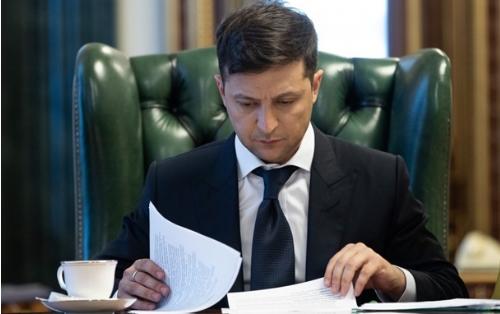 Ukrainian President Vladimir Zelensky is bent on meeting with his Russian counterpart Vladimir Putin to discuss the situation in Donbass, Kommersant reports. He has spoken about the need for such a summit for two weeks running, and even instructed his chief of staff to launch preparations for it. For its part, the Kremlin told Kommersant that Moscow had not discussed this matter with Kiev in detail so far, however, Russia is ready for such a meeting.
The Kremlin is not against a meeting with the Ukrainian leader, Russian Presidential Spokesman Dmitry Peskov told the newspaper. He reiterated the position of Vladimir Putin, noting that Russia would only discuss bilateral relations at such talks. "We can exchange opinions on any matter; if we have to repeat once again that there is no alternative to the Minsk Agreements, we can do it," Peskov pointed out.
Meanwhile, the Russian Foreign Ministry told Kommersant that the Ukrainian side had not initiated a discussion of a potential meeting so far.
Ukrainian political analyst Vadim Karasev thinks that a meeting between both leaders is necessary. "They haven't had a normal meeting for two years. Even if Moscow doesn't want to discuss Donbass, other issues can be touched upon. Say, the accumulation of Russian troops near the Ukrainian border is an issue of bilateral relations. But we need to understand that no issue of normalizing relations with Russia can be resolved without at least partial regulation of the Donbass issue," he told the newspaper.
According to the expert, it should be noted that Vladimir Zelensky had instructed his Chief of Staff Andrei Yermak to deal with the preparations for the meeting instead of the Ukrainian Foreign Ministry. "It is a sign that he wants a constructive approach, because the Foreign Ministry is ideological, and Yermak is in the loop about Donbass," he pointed out. Karasev is confident that even if Moscow refuses to meet, Zelensky will not lose points, as he will be able to say that he has done everything to resolve the Donbass issue with Russia.
Vladimir Fesenko, who heads the Penta Center for Applied Political Studies in Kiev, thinks that in the end, Zelensky will be able to organize this meeting. "We need to consider his nature - he is tenacious. In 2019, he fought for the organization of a Normandy Four summit for six months, and he got what he wanted," the expert told Kommersant. "There are many topics for discussion. What's important to us is Russia's blocking of the waters of the Sea of Azov, the Kerch Strait, and the partial blocking of the Black Sea. There cannot be any normalization of bilateral relations until the hostilities in Donbass end. If things calm down there, the atmosphere of war will dissipate, and we'll be able to move forward."
"Zelensky is confident that the Donbass issue should be resolved together with Putin. He has no illusions of 2019, but there is still hope. He believes that he will somehow be able to make the ice thaw," Fesenko concluded. (TASS)