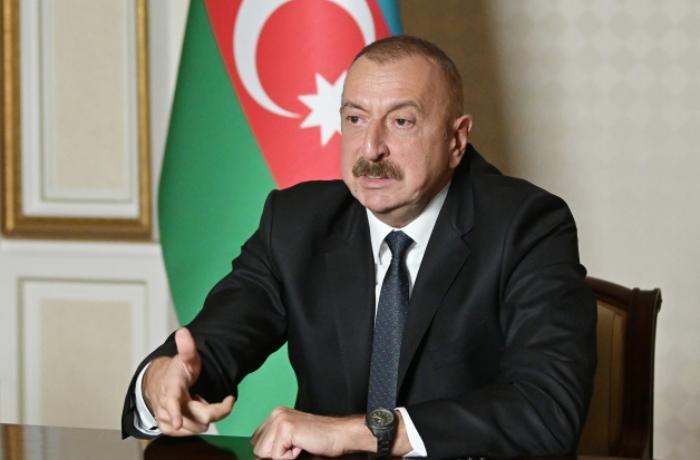 "We had about 3,000 martyrs in the second Karabakh war. Among them, I also mean civilians. May Allah have mercy on all our martyrs. May Allah grant you and their relatives patience. We bow before the souls of our martyrs. I must say that the blood of our martyrs did not remain unavenged. We have avenged the martyrs of the first Karabakh war and the martyrs of the second Karabakh war. We have taken revenge on the enemy, restored our territorial integrity and will forever cherish the memory of our martyrs in our hearts," said President of the Republic of Azerbaijan Ilham Aliyev at the ceremony to give out apartments to families of martyrs and war disabled in the residential complex in Ramana settlement, Baku on February 25, APA reports.
"In the first Karabakh war, we had more than 12,000 martyrs and about 4,000 servicemen went missing. We had about 16,000 losses and our lands were occupied. Considering the scale of the second Karabakh war, the number of our martyrs was extremely small. Of course, we revere the memory of each of our martyrs. Everyone's life is priceless. However, given that there was a large-scale war, that we started a counter-offensive operation in the first days and subsequently turned it into an offensive operation, the fortifications the Armenians had built there for 30 years, the five to six lines of defensive fortifications and the local terrain of that region, we can say with full confidence that we achieved what we wanted with minimal losses. Even military experts from the world's leading countries are surprised that we liberated our lands from the occupiers with such small losses. How? Because one of the most important factors for us when we were planning all the operations was to keep the number of our losses low. That factor was always at the forefront when operational plans were being approved for every day.
There is no war without casualties. Our war was a war of freedom, a just war. Armenia was waging a war of aggression. Justice is on our side. Therefore, our servicemen rose to the peak of martyrdom and honorably fulfilled their civil duty to the Motherland. Thousands of our servicemen have been awarded high state orders and medals. Their heroism, bravery and self-sacrifice should be and will be an example for every Azerbaijani, an example for the younger generation," the head of the state noted.