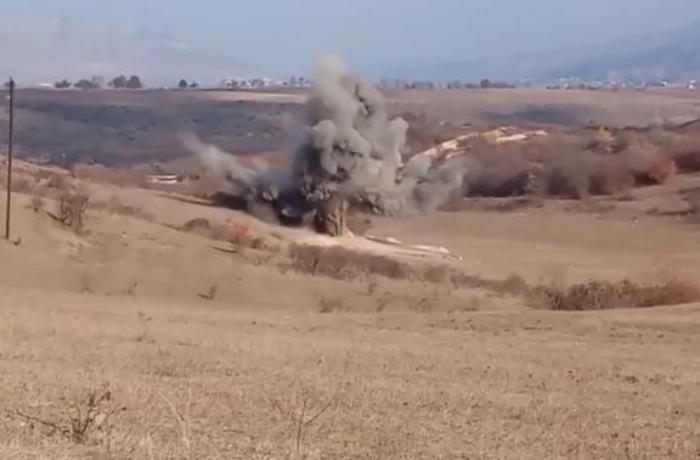 Russian mine action specialists have surveyed an area of more than 250 hectares in Nagorno-Karabakh to spot and clear explosive objects, the press service of the Russian emergencies ministry told TASS on Thursday.
"Over the period of their mission in Nagorno-Karabakh, mine action specialists have surveyed an area of more than 250 hectares to spot and clear around 15,400 explosive objects," it said.
According to the ministry, specialists finished mine action works in Nagorno-Karabakh's Martuni Province on Wednesday. "Over a period of one month, an area of more than 160 hectares in this province was cleared of explosive objects. Nearly 600 pieces of munitions, including artillery shells, anti-tank and land mines, air bombs, cluster bombs, fragments of Grad and Smerch missiles and cartridges of various calibers, were found and destroyed," the ministry said.
Now, the Russian specialists have moved to the Martakert Province to survey an area of more than 425 hectares.
Meanwhile, another team of Russian mine action specialists is continuing a humanitarian demining mission in Azerbaijan's Agdam district. An area of 15.4 hectares has already been surveyed, with 710 explosive objects, including 330 landmines and more than 170 anti-tank mines being found and destroyed. Specialists with dog are also involved in the mission.
Renewed clashes between Azerbaijan and Armenia erupted on September 27, with intense battles raging in the disputed region of Nagorno-Karabakh. The area experienced flare-ups of violence in the summer of 2014, in April 2016 and this past July.
On November 9, Russian President Vladimir Putin, Azerbaijani President Ilham Aliyev and Armenian Prime Minister Nikol Pashinyan signed a joint statement on a complete ceasefire in Nagorno-Karabakh starting from November 10. Under the document, the Azerbaijani and Armenian sides stopped at the positions that they had held and Russian peacekeepers were deployed along the engagement line in Nagorno-Karabakh and along the Lachinsky corridor that connects Armenia with the enclave to exercise control of the ceasefire observance. Apart from that, a number of districts came over to Baku's control.
Russian mine action specialists have been working in Nagorno-Karabakh since December 8, 2020. A Team of 20 specialists from the Russian emergencies ministry arrived on a humanitarian mission in Azerbaijan on January 4.